Reading spine MRIs for deformities is not just tricky, but can also be time-consuming. Though radiologists intend to make a thorough study of images and make an accurate diagnosis, they are unable to because they are pressed for time.
The average time taken by a radiologist in read a spine MRI is approximately 9 minutes. Well, 9 minutes is not much of a time if the radiologist is not pressed to read scans, every 3 to 4 seconds, to meet the workload demand.
Radiologists perform a myriad of repetitive manual tasks before actually reading the image. If you are a radiologist or a diagnostic service provider you will understand this better than anyone.
And most repetitive manual tasks are something that can be easily automated with today's advanced technologies like AI.
1. Repetitive tasks that consume 80% of radiologists' time in spine MRIs
By definition, radiologists read medical images like x-rays, MRIs, CT scans, etc., to diagnose diseases. But, in reality, they do much more than that. There are numerous repetitive manual tasks that need to be performed before reading an image. These tasks consume 80% of a radiologist's productive time and hinder them from spending more time studying the image and correlating the symptoms and findings.
Radiologists' efficiency and productive time in reporting for spine MRIs are majorly wasted on the following tasks:
Image sorting – Radiologists manually sort medical images to remove poor-quality images
Case prioritization – Radiologists manually prioritize cases based on their criticality, as lack of prioritization affects patient care, turnaround time, and business outcomes as well.
Marking of morphological points – Radiologists mark morphological points in spine images to identify deformities and their severity.
Locating and labeling vertebrae – Radiologists have to manually locate and label the vertebrae say C1, C2, C3, etc. Additionally, they also locate the discs between each vertebra.
Measuring and characterizing spinal elements – To perform quantitative imaging analysis radiologists measure and characterize all the spine elements. But, since radiologists are pressed to meet workload demand under tight timeframes, they do subjective analysis in which measuring and characterizing spinal elements are done through eyeballing.
2. How Spindle, the AI assistant, simplifies spine reading and reporting
Spindle is a new-age AI tool developed by Synapsica to automate spine reading and reporting. With Spindle, radiology professionals and diagnostic service providers can automate repetitive reporting tasks in spine MRIs that consume 80% of radiologists' time.
Spindle simplifies spine reading and reporting in the following ways:
2.1. Automates labor-intensive tasks
Spindle automates time-consuming repetitive tasks like image sorting, case prioritization, marking morphological points, locating and labeling vertebrae, measuring and characterizing spine elements, etc., that radiologists perform before studying a spine MRI.
Automation of repetitive tasks with Spindle provides more bandwidth for radiologists to focus on the deformities in images and correlate patient symptoms to determine the actual underlying problem.
Spindle is an #AI radiology software for spine MRI reporting that can automatically-
👉 Find compression fractures
👉 Measure the heights of intervertebral discs

With this, radiologists can report degenerative #SpineDiseases at the early stages.#BetterRadiology #spinehealth pic.twitter.com/37CtSqEgjj

— Synapsica (@SynapsicaAI) August 18, 2022
2.2. Facilitates quantitative imaging analysis and objective reporting
One of the key features of Spindle is that it enables quantitative imaging analysis by measuring all the elements of the spine. By comparing these findings against anatomical values, physicians can make a diagnosis with increased accuracy. Since radiologists don't have to manually measure or characterize the spinal elements with Spindle, they can do quantitative imaging analysis much more quickly which is otherwise time-consuming.
Spindle can also identify pathologies like disc degeneration, spinal stenosis, schmorl's node, listhesis, etc., and grade their severity. Even better, with Spindle radiologists no longer have to worry about creating reports. With just a click, Spindle can generate objective reports with graphs and illustrations in less than a minute.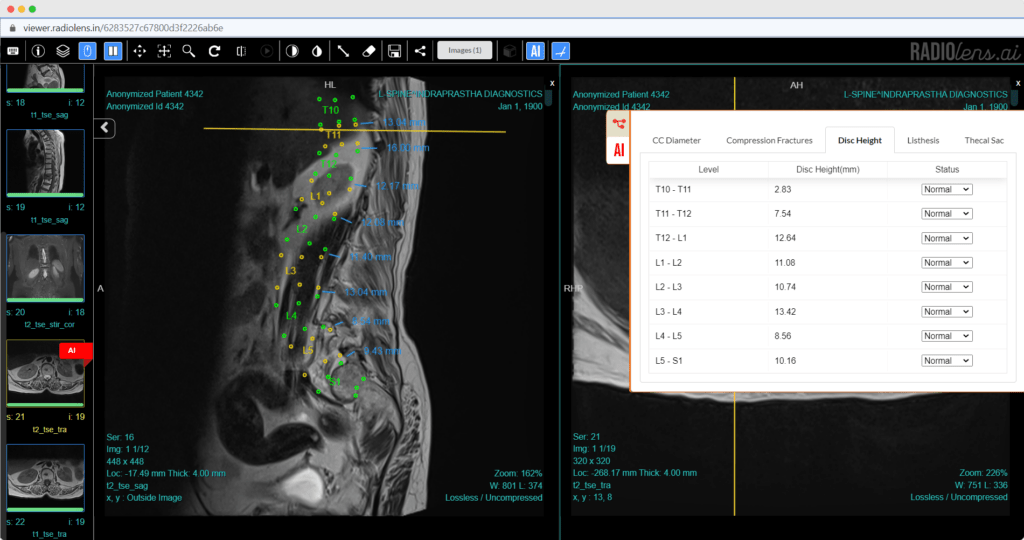 2.3. Reduces report turnaround time
Report turnaround time is critical for patient care as well as business credits. The lesser the TAT, the sooner the patient will receive appropriate care and treatment. Reduced TAT also increases the credibility and reliability of the diagnostic service provider. The approximate time (9mins) taken to read spine MRIs can be reduced to half (4 mins) with Spindle. This means radiologists can study two cases with Spindle in the time taken to read a single case without Spindle.
Reduced TAT also means more business to providers. With Spindle, health systems and diagnostic service providers can increase their business without compromising on TAT.
Undoubtedly the future of spine care will be AI-driven. Algorithms like the Spindle are just a sample that showcases the potential of AI in radiology and spine care. With AI making the impossible possible in spine care and treatment, health systems and diagnostic service providers can be less concerned about the growing radiologist shortage and the fast-growing medical imaging data.
This 2-minute video will show you how AI is changing the future of spine care. Check now!!