According to a study conducted by BMC (BioMed Central) on residents at 3 big university hospitals in Kerman, Iran, to understand the satisfaction level of physicians in using PACS, 58% accepted that using PACS is a great accomplishment for their hospitals, 59% stated that reviewing images with PACS is easy, 76% deemed that quality of PACS images is better than radiology films, 50% believed that image interpretation time is reduced using PACS.
PACS, which stands for Picture Archiving and Communication System, has evolved over time from traditional to cloud-based and has reshaped radiology greatly.
Today, AI-powered PACS is gaining more attention as they provide more dynamic solutions and enable a deeper analysis to make precise diagnoses and medical decisions. For instance, RADIOLens, a cloud-based AI-powered PACS, handles 800,000 cases annually, which is more than half the number of cases radiologists handle in a year, and provides detailed reports in a click.  
So, let's understand how PACS software backed with AI algorithms and workflows has turned into a 360-degree IT support and is continuously revolutionizing radiology practices.
1. How radiology has changed since the advent of PACS
Throughout history, the healthcare industry has always been keen to explore the potential of technological advancements.
PACS, which was basically developed to store, retrieve, manage, distribute, and present medical images, not only replaced traditional film-based systems but completely changed radiology and its workflow.
What caused the change?
Traditional film-based systems, though proved useful before the emergence of PACS, posed challenges in terms of availability, reliability, convenience, speed, quality of image, and most of all, retrieval of lost images.
On the other hand, PACS provided:
1.1. Better visualization
Image quality became increasingly important as medical imaging became a critical part of modern-day diagnosis. The better the image quality, the better the analysis. Even minor deformations can be better spotted in an enlarged image. PACS comes with inbuilt tools that allow users to electronically manipulate the images, say magnify, or create 3-D visuals of blood vessels, organs, soft tissues, and bones.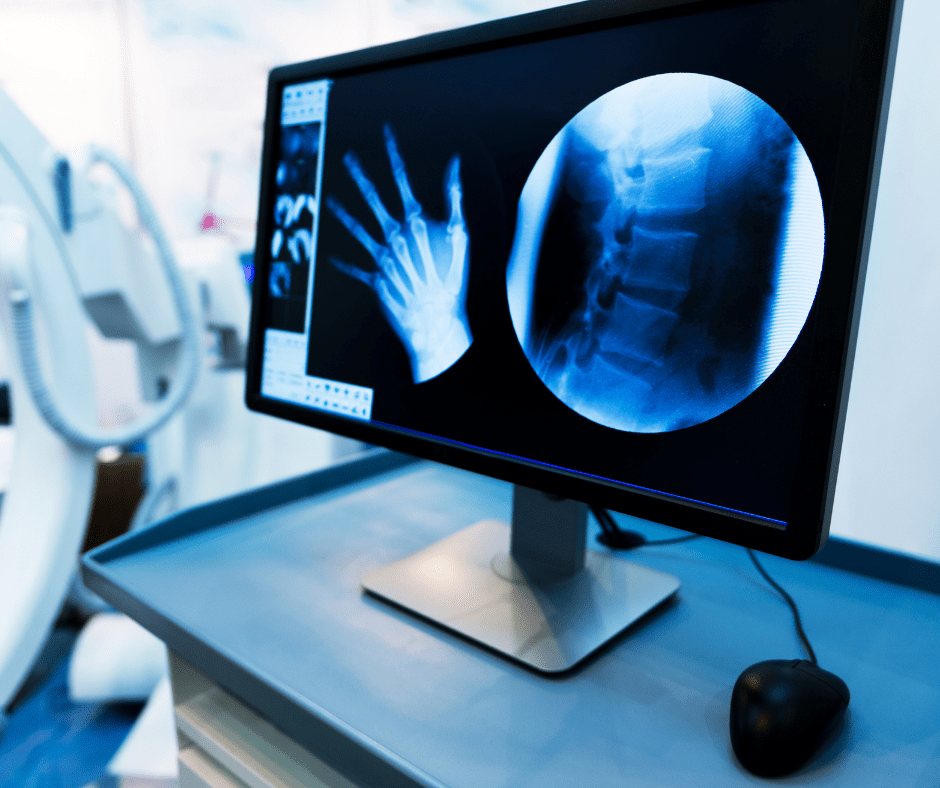 Also, PACS eliminates the need for separate portals for viewing reports. With PACS, radiologists can electronically share reports including messages to change or update the status on the host system.
1.2. Better organization of patient data
Digitization enables orderly storage of patient radiology reports. Therefore a great deal of time can be saved as physicians no longer have to search through a pile of paperwork for any particulars. PACS software will provide the required data within seconds.
With easy sharing, economical storage, and convenient access to patient data, radiology workflow, productivity, and patient care can be greatly enhanced.
1.3. Cost-effective
Hospitals and diagnostic centers can save a lot of money using PACS as they don't have to pay for printing films or the PACS administrators for the service.
While PACS does not promise to reduce workload, it sure does prove to help radiologists in improving productivity, report time, and report quality.
1.4. Improved access
Hospitals and diagnostic centers can save a lot of money using PACS as they don't have to pay for printing films or the PACS administrators for the service.
With PACS, radiology images can be easily accessed from any location, providing radiologists with greater flexibility and convenience.
1.4. Enhanced collaboration
PACS has made it easier for radiologists to collaborate and share images with other healthcare professionals, improving patient care and outcomes.
2. How cloud-based PACS outweighs traditional PACS
While traditional PACS outweighed film jackets in many ways, and improved radiology workflow and radiologists' productivity and efficiency, it surely has some drawbacks. This led to the development of cloud-based PACS.
Here's how RADIOLens, a cloud-based PACS is better than traditional software:
2.1. Adequate or scalable storage
The usage of medical imaging has been continuously growing. While traditional PACS provide economical storage, they don't provide scalable storage. Increased storage means an increased number of hardware equipment and PACS administrators. Expenses are more when the requirement is more.
On the other hand, cloud-based PACS such as RADIOLens is scalable and cost-effective. Cloud-based PACS allows users to expand storage space as and when required and users pay only for the storage space that they use. Even better, RADIOLens provides unlimited data storage.
With RADIOLens, data recovery is no longer a concern, as cloud-based PACS provides automated disaster recovery at no extra charges. Healthcare providers can manage their data center infrastructure anytime and from anywhere, at affordable costs.
2.2. Easy Access and Reporting
Traditional PACS can be used only by logging into a server. Hence, a workstation or computer with software and server access is required to access the PACS.
In the case of cloud-based PACS, anyone with appropriate access can remotely login into the PACS application securely, from anywhere and any device, over the internet. Likewise, creating new or admin accounts and role-based access is just a matter of seconds. Cloud PACS also offers a powerful set of tools for patient – management, scheduling and dispatching, image interpretation, and billing support.
In cloud PACS, users can create customized reports with different visualizations like tables, images, etc, with a single click. RADIOLens also provides custom reporting templates to create quantitative and qualitative reports easily and quickly.
2.3. Economical
Capital costs are higher for traditional PACS. The hospital or the healthcare entity must bear the initial software and hardware costs and is responsible for implementing and maintaining the entire storage unit. Also, multiple PACS integration is a tedious task, whether installed within the hospital or between hospitals, or between hospitals and diagnostic centers.
In a cloud-based PACS, the cloud vendor who is also the PACS system vendor maintains and updates the software and hardware, as on-premises servers are no longer in the picture.
2.4. More secure
Security is a key concern for healthcare entities as accidental leaks or sophisticated cyber attacks can cause great distress. Unlike on-premise data centers, cloud data centers are more secure as data in a cloud infrastructure is stored on servers that are doubly encrypted and protected against any kind of attacks or data leaks.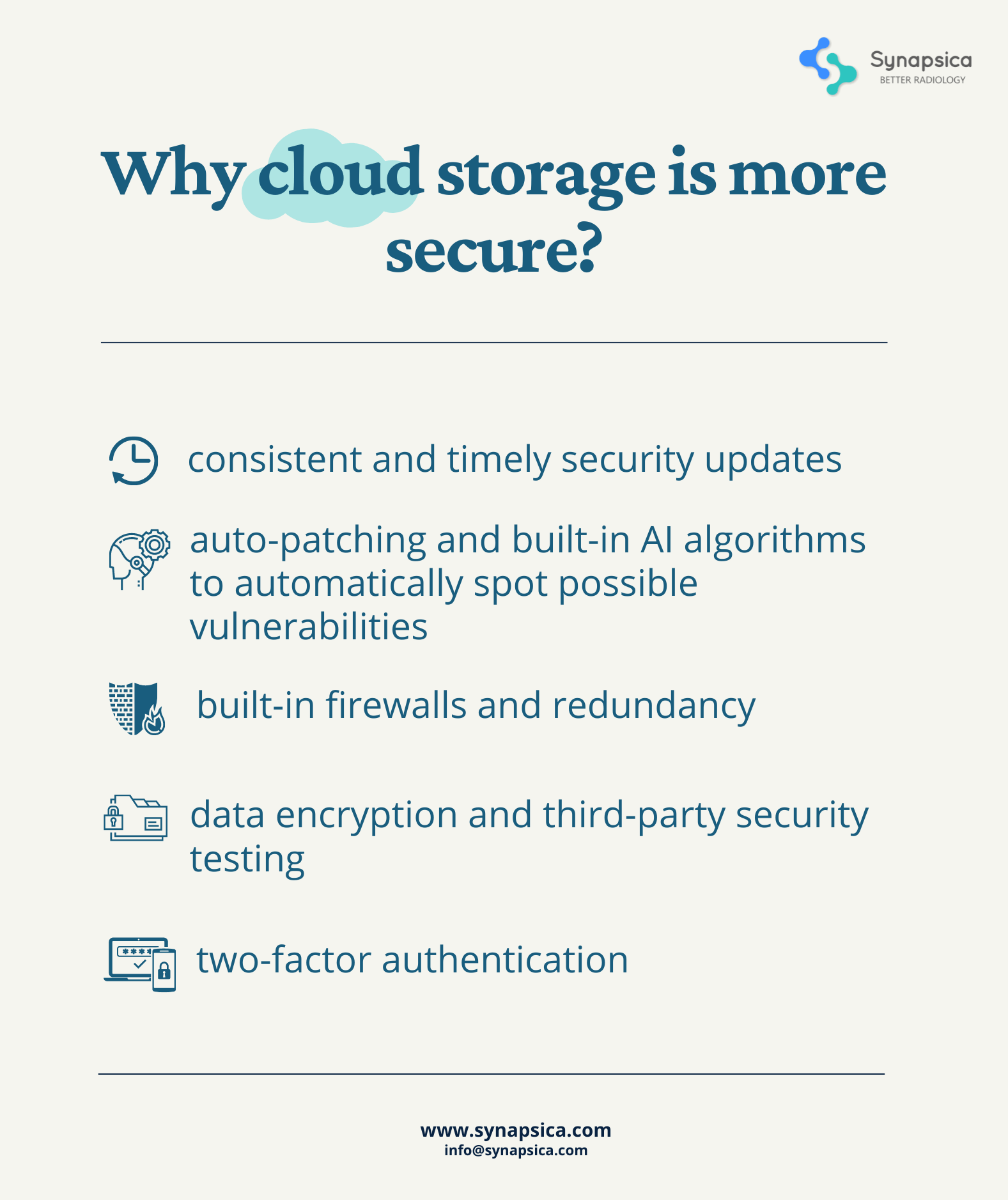 3. RADIOLens: A 360-degree IT support for radiologists
Radiologists don't just examine image tests like X-rays, MRIs, or CT scans. They carry out other tasks as well.
On a daily basis, apart from examining images, there are some intrinsic and extrinsic factors that contribute to the workload of radiologists. A radiologist plays various roles depending on the structure of the hospital, department, or other entities. He or she can act as an administrative staff, quality manager, educator or advisor, scientific or technical consultant, etc.
Some extrinsic factors include health policies, imaging for physical examination, screening and follow-up, use of radiology for clinical purposes to prevent malpractices, etc.
With hospitals focusing more on digitization and radiology becoming a critical part of medical diagnosis, PACS has become an increasingly essential tool for regulating radiology workflows and enabling radiologists to keep pace with the constantly increasing workload.
Loved and used by thousands across the globe, RADIOLens aims to help hospitals and radiologists deliver better patient care by providing:
* smoother diagnostic workflows
* 24*7 technical support
* faster image uploads and downloads
* easy and quick reporting.